Join OUR Tribe OF HENNA ARTISTS
Empower yourself & others through sacred henna & ritual.
JOIN NOW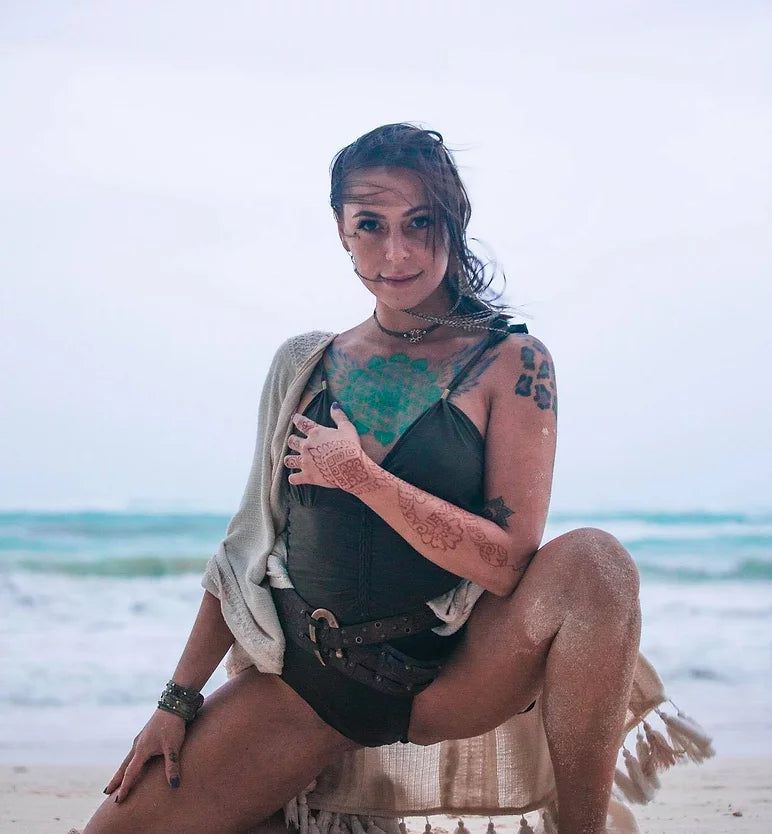 Online Henna Courses Enrolling Now!
Deepen your power, presence, sensuality & joy.​
Attract income opportunities that have meaning & impact.​
Manifest your most creative & spiritual life.When our founder, Amanda Joy, discovered henna she knew it was going to change her life. Soon she realized it would empower her to transform other peoples' lives too!​
From the moment she laid eyes on this sacred art form, she felt a deep connection to its magic. Henna helped Amanda Joy overcome her anxiety by creating a reliable pathway to stillness and presence; it helped her choose love over fear, and from that point forward, she couldn't help but share it with others.
Beginners Course Beginners Course $444.00Price
View Details
MORE THAN A BEAUTY RITUAl, WE BELIEVE HENna ART HAS THE POWER TO HEAL.
Back in 2017, our founder, Amanda Joy began donating her time to crown and adorn cancer patients, specifically those losing their hair due to chemotherapy. In hearing their stories and holding space for them, Amanda Joy discovered an even deeper purpose for her creative passion - she was helping these courageous survivors remember their beauty and strength. 
 In adorning over 100 women and children, Amanda Joy directly saw and experienced how these sessions had a therapeutic effect; helping cancer survivors to embrace radical self-love, stay optimistic during times of challenge and receive heart-centered, holistic support on their healing journey. These experiences & the wisdom she gained from them helped her develop her signature approach to henna art, which honors the sacred tradition of this art form by treating it as a transformational ritual.
​Activate your healing abilities through sacred henna art.
 By completing our henna courses, you'll get access to exclusive discounts on products & retreats, as well as receive the opportunity to work as Happy Henna Affiliated Artist & Henna Crowns of Courage Ambassador.
 More than just artisitic ability, Happy Henna courses are created to inspire greater self-love and confidence. Get ready to own your worthiness, grow your impact and gain powerful, lifelong friendships along the way! 
BEGINNER'S COURSE & CERTIFICATION
Learn the foundations of sacred henna art & become connected to the Happy Henna Tribe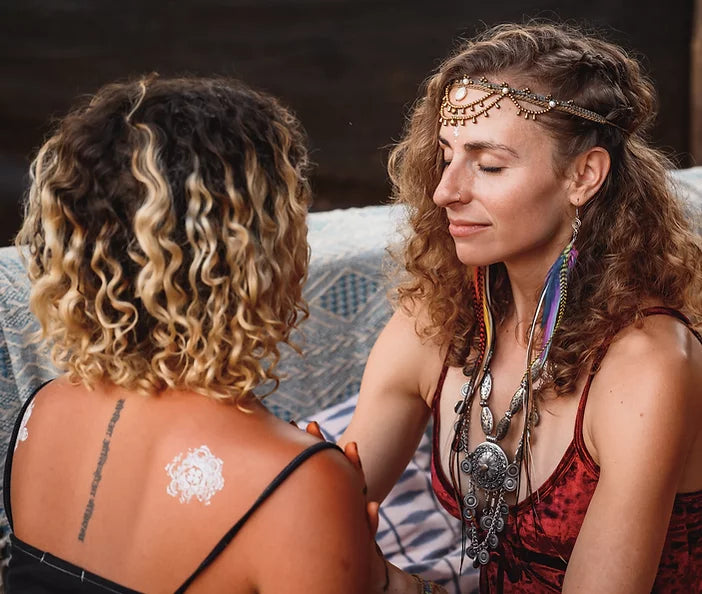 Our Beginner's Course is created for new henna artists who want to enhance their artistry as well as build a meditation and spiritual practice around this sacred art form. You will be added to a private facebook group where you can witness others who have taken the course. You can interact with the team members, share your work and ask questions.
*THIS IS AT YOUR OWN PACE AND AVAILABLE TO TAKE AT ANY TIME! SIGN UP TODAY!
*Payment plans available upon request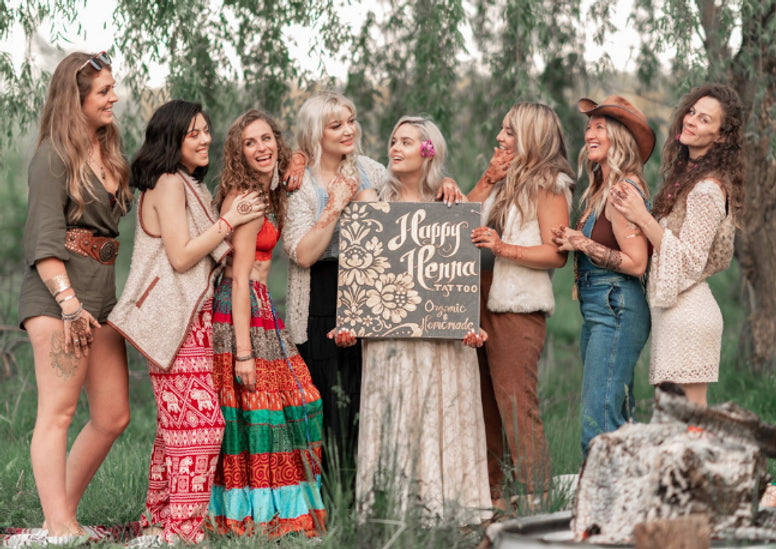 * henna education via bi-weekly Zoom calls (optional)
​
* support developing a daily mindfulness practice with guided henna challenges
​
* community encouragement & support via a Private FB group
​
* additional meditations and follow alongs to accelerate your growth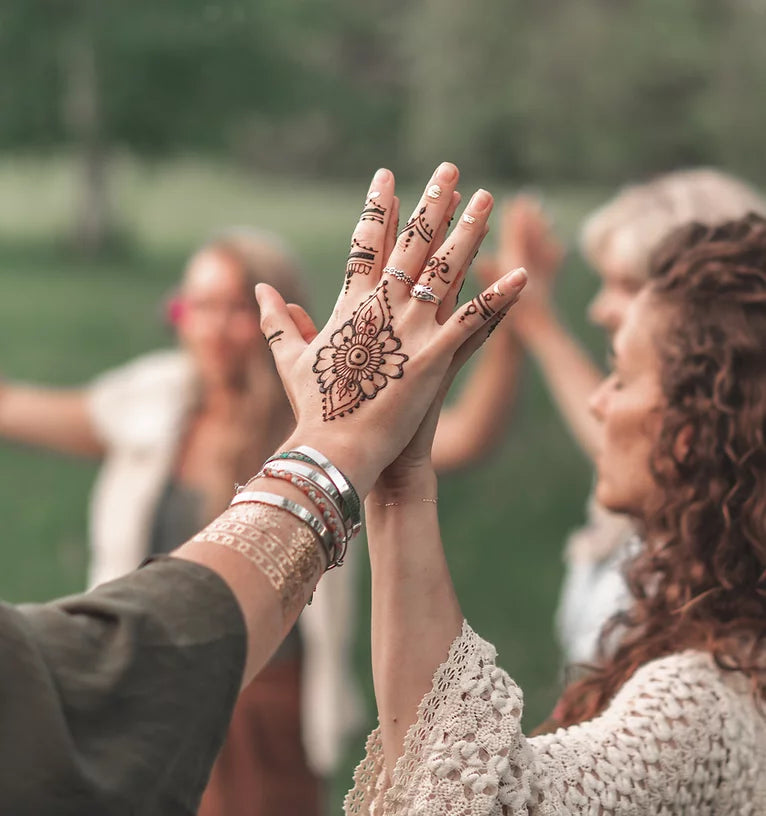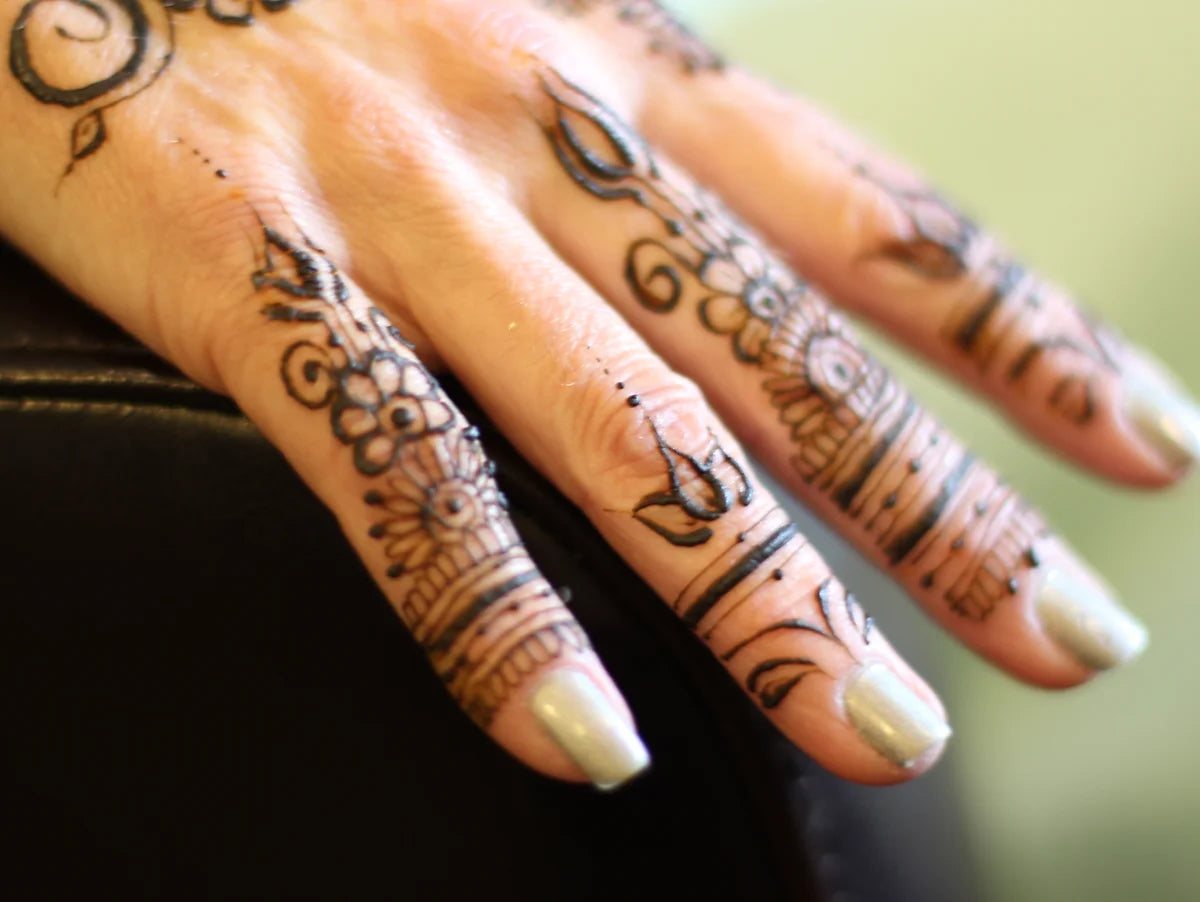 EXPECT TO LEARN:
HISTORY & CULTURET
here is sooo much history to this 5,000 year old art form. From Eygpt, to Asia to America and all over the world. You will learn stories and meanings that will spice up your paste
MAKE HENNA PASTE
Guided videos, virtual group and one on one guidance to making the best, smooth and sticky henna paste for application
ROLL HENNA CONES 
Your tool for application is very important! Learn how to roll your own henna cone and the techniques on how to handle it
SPIRITUAL SACRED ART
You will learnt the true meaning of this art form, how to bring it back to its roots of being a form of blessing. 
SELF LOVE TECHNIQUES
Yes Henna is a tool for SELF LOVE. You will be guided through steps to take to really activate your henna, your meditation and application to make it the most healing experience for yourself and others. 
BREATH-WORK & MEDITATION
It all begins with slowing down. Slowing your breath. You will also be guided through several meditations you can take with you and practice.
AUTHENTIC RELATING
Conversation tools and techniques to become present to allow truth to move through your art and blessing.
TRADITIONAL DESIGNS
You will learn simple and traditional designs
MEANING OF DESIGNS
There is meaning in everything if you look close enough. There are many interpretations to designs, images and personal reflection
Presented in partnership withThis bonus artistic craft will include all of Amanda Joy's is available for purchase (and more temporary) creative tools. You'll also get access to product discounts!

...Learn the heART of Henna...
"There are no words to express or explain the emotions that took over during my henna session. Amanda Joy & Henna Crowns of Courage taught me to stand tall and be confident!"

AMY BLUNT

"When Amanda Joy was done with my Henna Crown… I couldn't believe it was me I was looking at. I felt beautiful for the first time in a very long time...This is an experience I will never forget."

LEE ANN PROIA

"The blessing Amanda Joy gave me was very touching and just made me feel even better. It's hard to put into words really but it was a great experience, and I am so glad I got to be a part of it."

- ANGELIQUE SLATER
Intermediate/ ADVANCED Henna Course & CERTIFICATION- COMING SOON
Learn advanced henna techniques, meditative practices, and get the chance to become a Henna Crowns of Courage Ambassador!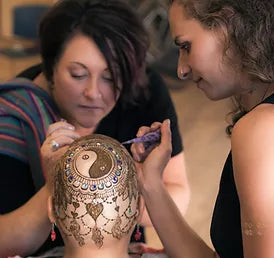 Additional courses will be arriving soon along with in person retreats/events and gatherings. If you are interested in be part of our nonprofit, we have private courses available. Please schedule a call to learn more. Upon completion of this course, you'll have the opportunity to work events with Happy Henna & empower cancer survivors through our non-profit partner, Henna Crowns of Courage.